Click on thumbnail image to see full size picture.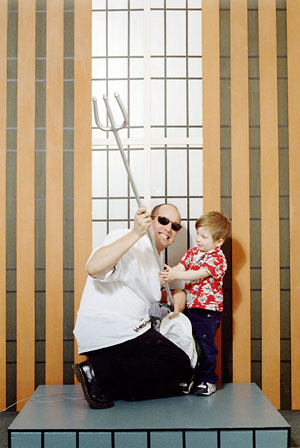 Kevin and Griffin Hay as Portlandia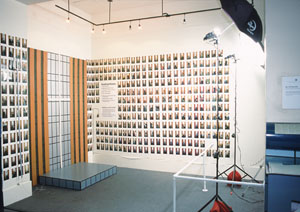 Installation view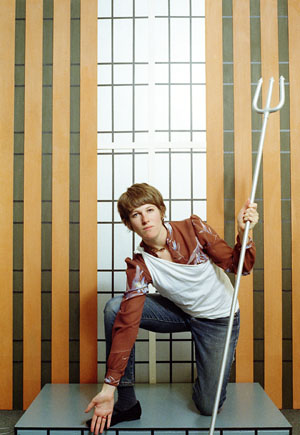 Camela Raymond as Portlandia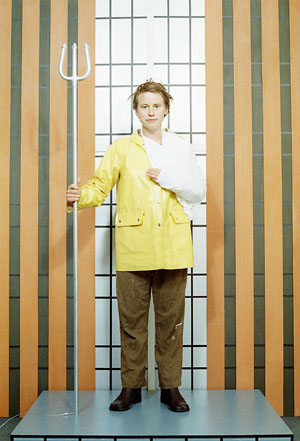 Kathy Duffy as Portlandia
Be Portlandia
Public Installation
May 19 - June 13, 2003
Portland Building, Portland, OR.
What is a figurehead? How does a city, a monument, or a photograph represent someone? I created an installation in the Portland Building sponsored by the Regional Arts and Culture Council that explores these questions and at the same time provide some fun by allowing people to take their own photo as Portlandia. Participant instructions:
Pick up the trident.
Press the red button on the camera.
Get on the platform.
Be Portlandia.
Your picture will be taken within 10 seconds.
Return the trident to the hanger.
Come back in a few days and see your picture on display.
Leave me a note, and I'll mail you your picture at the end of the month.
I created a painted cardboard background that represents the exterior of the Portland Building. Visitors posed on a small platform in front of the fašade while holding a trident. A camera with flash took the participants' pictures. On a wall I displayed all the photos. Several times a week I came to the installation, printed the photos and hung them. Participants who liked their photos received them for free at the end of the exhibit.
I believe that this installation allowed the people who work in and pass through the Portland Building to try on the role of representing Portland for themselves, rather than leaving this duty to a statue. A city is not a single entity, but a collection of unique people. I wanted to demonstrate this fact by bringing the symbol of Portland within reach of the citizens. Participants responded with a variety of ways from mockery, to timidity, to exultation. I think that the photos produced by the participants provided an interesting and provocative document of the living citizens in conversation with their monument. Around 800 people participated.
This installation received a fair amount of local press coverage. Here's an article from the Portland Tribunes, an article from the Oregonian, and a mention from KATU news.