Click on thumbnail image to see full size picture.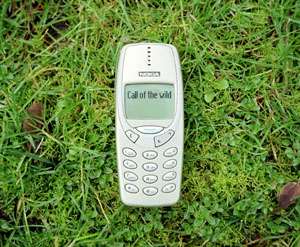 Cell phone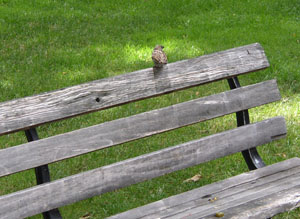 Sparrow
Call of the Wild: Cell phone audio tours of downtown Portland wildlife
Interactive Public Art Project
July - September 2004
Portland, OR.
Call of the Wild is a series of audio tours of downtown Portland that are accessed by cell phone. The tours focus on plants and animals in downtown, contrasting them to their human cohabitants. Using natural history, philosophy, and humor the tours reveal urban biological systems that we see everyday but seldom notice.

Listen to the tour of the South Park Blocks


Listen to the tour of the Plaza Blocks


Listen to the tour of Waterfront Park

Urban ecosystems demonstrate how technology and the urban environment mediate nature. Starlings, pigeons, and moss show us how to adapt, survive, and flourish in changing and artificial surroundings. Call of the Wild examines urban wildlife with an eye to the lessons it can teach us about our own technologically mediated lives.
Cell phones provide a unique, practical, and fun venue for conducting audio tours. Cell phones are already an integral part of the urban environment, and using them for audio tours transforms a device that normally removes people from the environment into one that help focus attention on it.
This project has received generous support from TriMet, Regional Arts and Culture Council, BeVocal, Portland Institute for Contemporary Art, and The Organ Review of Arts.