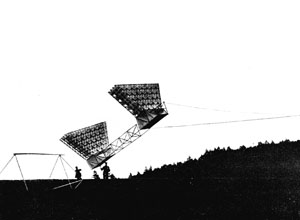 I'm building a very large cellular kite inspired by the kites Alexander Graham Bell built about one hundred years ago. I've decide to try recording information about this project in "blog" format as the kite evolves over the next month.
Bell built some amazing kites. He had a workshop in Nova Scotia that created a large variety of cellular kites around the turn of the century. He was a participant in the race for flight, though not a very successful one. His kites looked beautiful, but they weren't great fliers. However, the triangular grids he pioneered became popular much later as an architectural form. I really like the way Bell's kites don't have the appearance of flying machines. They look like crystals or space ships.
I've been teaching a graduate architecture seminar "Flying Machines Invention Workshop" at
University of Waterloo School of Architecture
through the
Render
visiting professor project. The kite project grew out of my research for the class.
My plan is to finish the kite in a few weeks, because I'm going to take it out to Nova Scotia for
Bell Cygnet Kite Centennial event
in Baddeck. The event will celebrate Bell's kite projects at the historical Bell estate.