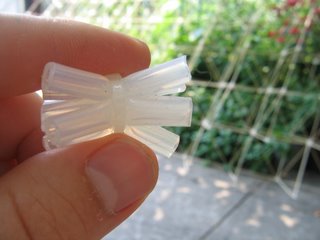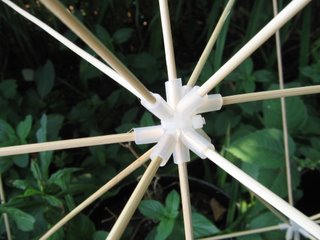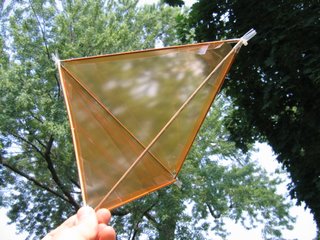 I'm working very differently than Bell worked. For one thing, I don't have the kind of resources he had. He made a lot of money on the telephone and married a rich wife. Bell bought a large chunk of land in Nova Scotia, built big kite workshops, hired dozens of workers, and imported expensive materials like silk. I'm very lucky to have a $3000 Canada Council for the Art grant, and my own labour. However I do have the advantages of plastics, and cheap Chinese manufactured goods.
Here are the basic facts. The kite will be about 16 feet wide and 12 feet tall. It will be shaped like a telephone. It will be built out of about 500 cells. I'm making cells of bamboo BBQ skewers joined with silicon tubing connectors that are held together with cable ties. The covers are made of polypropylene film and held on the framework with scotch tape. I plan to reinforce the structure with fibreglass tubing.
Here are some photos. The first photo shows a silicone tubing connector.
The second photo shows how the bamboo skewers are held in place by the connector. I tried about 30 different types of plastic tubing until I found one that had the right size and stickiness to hold the bamboo skewers firmly in place.
Strangely it was difficult to get this tubing into Canada.
McMaster-Carr
wouldn't ship it to Canada, and when I told them to just ship it to the US instead, they refused. Since they knew that I was going to bring the tubing to Canada, they wouldn't ship it to me in the US. This smells like irrational terrorism fear to me.
Anyway I simply cancelled my order and placed another other order for the exact same items without telling them that I was planning on taking the tubing north. That resolved the problem and everyone was happy.
The third image shows a cell with the polypropylene cover.