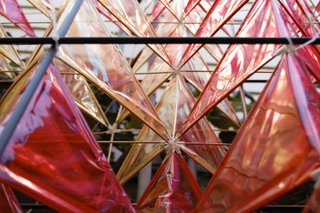 The covers are now on the kite. My student, Catia, kindly helped me with the tedious task of taping them on.
It actually kind of looks like a telephone now. However, it's wedged in an narrow space between two houses so I can't back up more than four feet from the kite to take a look at it.
The kite is basically done now. I need to bridal it and try to fly it in the next couple days before packing it up and departing for Nova Scotia.
Since I'm a complete kite novice, I have no idea if the kite will fly, be torn apart, site on the ground, or lift several people into the air. We have much to discover.