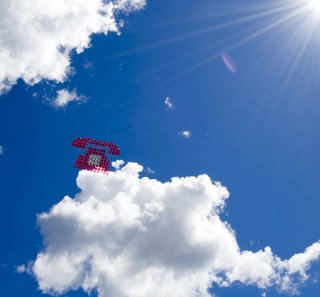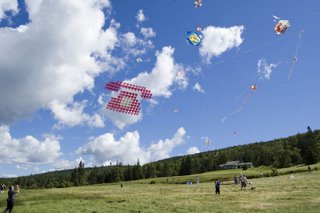 Last night we arrived in Baddeck, Nova Scotia, and this morning we participated in a kite fly at Alexander Graham Bell's estate, Beinn Bhreagh as part of the Cygnet Centennial event.
It took a while to set up the kite, but with the help of some of the kite experts there we were able to get it in the air. The first couple flights lasted only a few seconds, but with an improvement in the wind, some more kite bridling and flying advice, and the help of some of the people who worked at the Bell estate, the kite flew for several minutes.
It was quite exhilarating to finally see the kite fly in the same fields where Alexander Graham Bell's pioneering kites flew a hundred years ago. The flight provided a welcome culmination after so much work and uncertainty about whether the monster would ever fly.
There were several TV crews on the scene to record the event. I also did two radio interviews.
There are many more important details that I'm omitting now, but will try to fill in soon.